There are various types of content that you can upload to a lesson and here are a few discussed below.
Upload Material from Computer



TrainerCentral allows you to upload audio, videos, PDF, spreadsheet and image files from your computer directly to your lesson.
You can also drag and drop files from your computer directly to the section shown below to upload
Add file from Library



From the centralised cloud library that TC offers for your account, you can easily pick and upload any content material that you wish to your lesson.

Add Test



Tests help with in-lesson assessment of your students and helps gauge the level of learning that your students are in.

To add a test:
Click on Add Test and add the name and the preferred guidelines (if any for your students to keep in mind when taking the test).
Choose the type of question that you wish to add and kindly ensure that you choose the right answer and the appropriate weightage for the question so that we can grade the results correctly.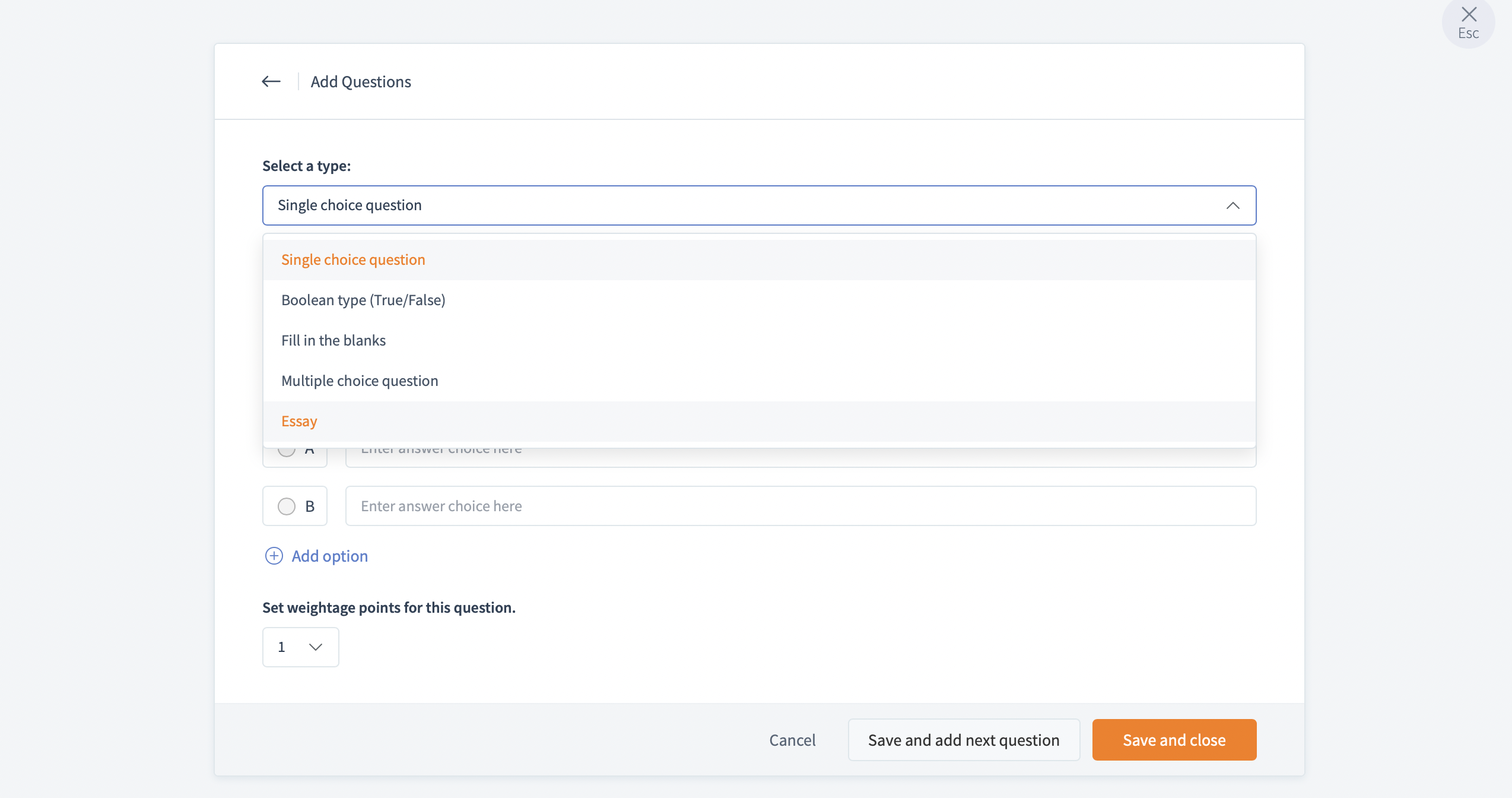 You can choose to have single choice, MCQ, Boolean, Fill in the Blanks and even Essay type questions. In the case of essay questions, if the pass percentage is yet to be achieved (by the learner) through other questions, you would be required to grade the answer manually after which we publish the results to the learner.

Upload a Test
You can also a upload a test directly to your lesson by uploading the questions as an excel file. A sample excel file is attached as a tool tip in the product. When you upload your test file (in the format shown in the sample), the test questions will be a part of the lesson after which you can use them to assess your learners.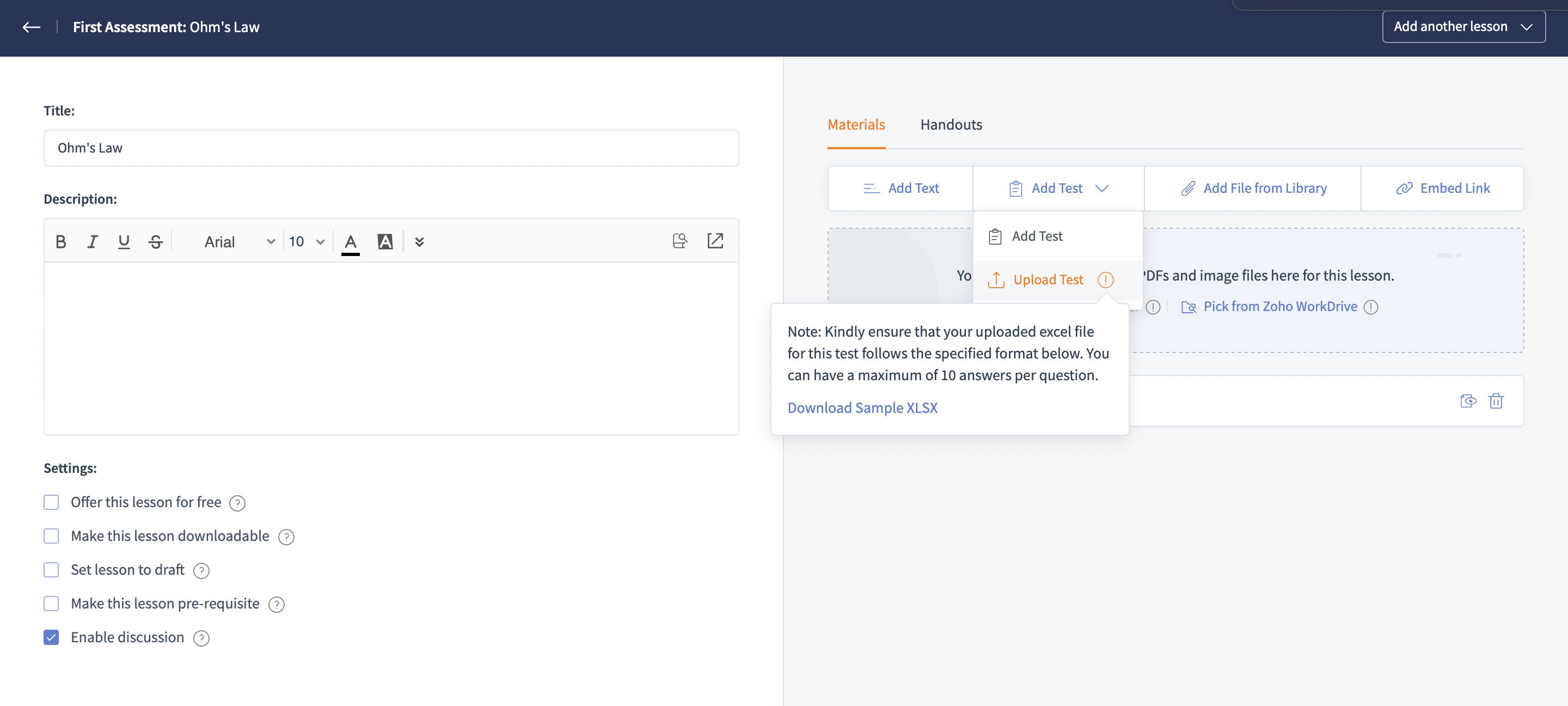 Test Settings



TrainerCentral offers various settings that you can configure for your test giving you complete control over how your learners are evaluated and graded. There are various settings like

1. Set passing percentage:
Only after the learner scores above the passing percentage will they be allowed to successfully complete the test.
2. Allow test retake:
You can specify the number of times a learner is allowed to retake the test.
3. Show answer results after test completion
: The right answers for your test questions will be displayed to your learners once they complete the test.
4. Shuffle test questions:
Once a test is configured/uploaded with a specific set of questions and answer choices, TrainerCentral will shuffle the questions and answers when displayed to your learners.
Also you can choose the number of questions to be shown to your learner after being shuffled. For example, if you have uploaded 100 questions using the Test upload option, you can choose to display any 10 questions to your learners.
5. Negative Marking:
Whenever a learner answers a question incorrectly, a negative penalty can be imposed. You can set negative marking either in terms of points (For example, -2 points for every wrong answer) or percentage (For example, 20% of the single right answer's weightage would be the penalty).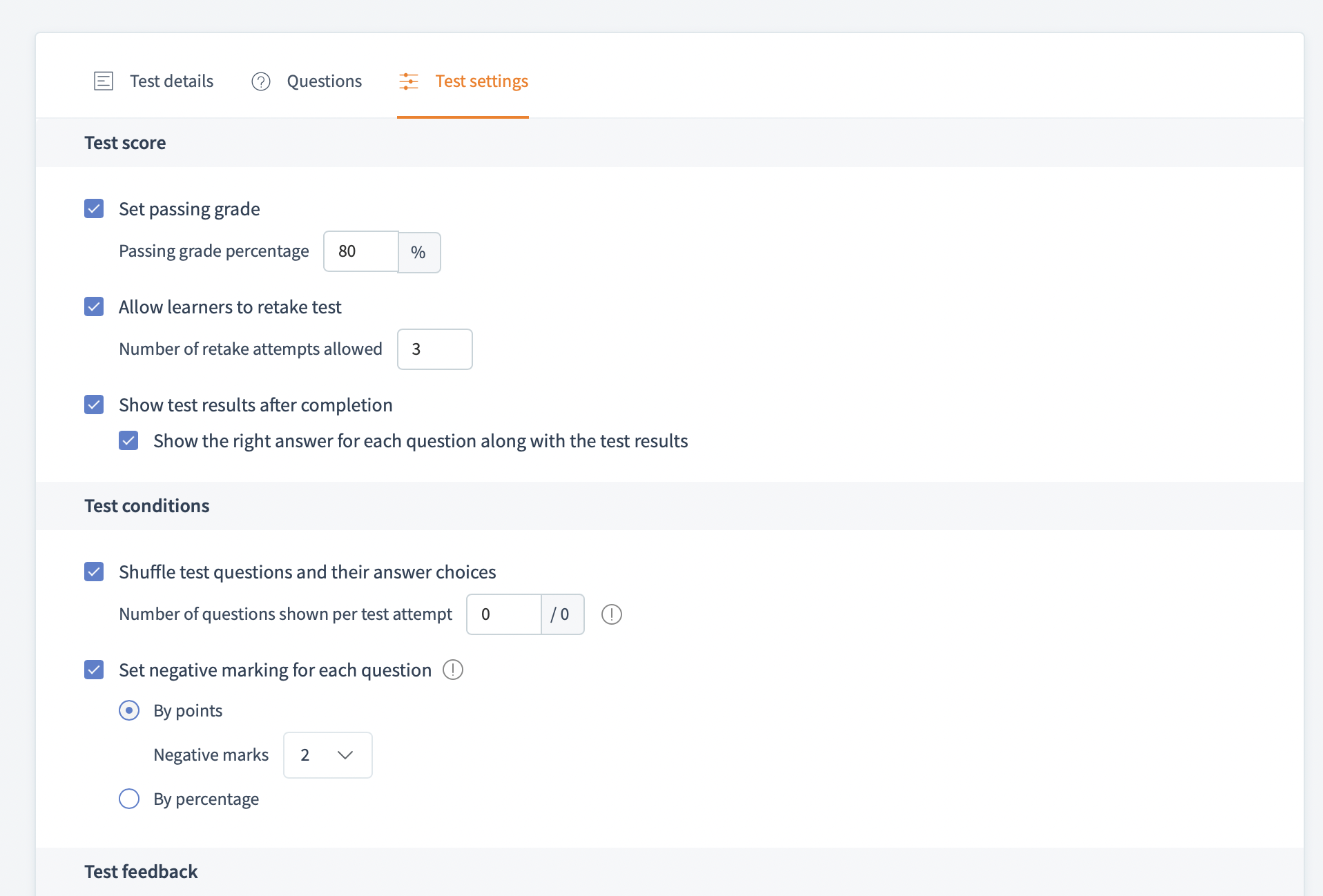 Add Text
You can add any text to your lesson and TrainerCentral offers a rich text editor that you can use to add this text as part of your lesson curriculum for your course.
Embed External Link
TrainerCentral allows you to add any external link to your lessons which can be used to include documents hosted in other cloud platforms, online meeting URLs, external surveys etc.