1. How long will the migration of my data from ShowTime to TrainerCentral take?
The migration of your ShowTime data and account portal will approximately take an hour or two to be completed. If in case there are any technical issues or glitches that arise during the migration, our product team will debug it right away and we assure you that in such rare cases, the migration would be completed within 24-48 hours.

2. Should I be careful about any ongoing ShowTime activities during the migration?
We highly recommend not having any active sessions during the time of the migration. For example: If you've specified that the migration should happen on 11/12/2021 at 9AM -10AM PST, we would strongly advise not conducting any sessions during that time.

This recommendation is not applicable to any future sessions that will be launched post migration. If you have created a session today and the session is happening a month later post migration, no worries! Your sessions would be intact and function seamlessly. Only during the active migration period, we request you not to conduct any scheduled sessions.

3. Will there be any changes to my data during the migration?
All your ShowTime data and account details will be retained intact during the migration. We assure that no data will be lost in the process. All your past sessions, on-demand sessions, account details will be moved without any glitches to your TrainerCentral account.


We would like to highlight here that if there are any
pending invitations
(invitations sent to trainers to
join your academy
but they haven't accepted it yet), you will be required to resend these invitations once again to them post migration. The data associated with pending academy invitations to trainers are not migrated hence we request you to re-invite them once again after moving to your TrainerCentral portal from ShowTime.

4. Do I lose any ShowTime features post migration?
We regret to inform you that
Face to face sessions
(the sessions where a trainer and the learners are physically present in the same geographical location and the trainer conducts a face to face session inside a classroom/auditorium in real time) would not be available in the migrated account.

We do have plans to bring the face to face session feature back eventually and if it's of prime importance to you to have this feature in your account, please write to us at
support@trainercentral.com
and our team will get in touch with you and explore the feasibility of enabling this feature for your account

5. Will my current integrations like Zoho CRM, Zapier function seamlessly?

For users migrating from ShowTime, all CRM integration functionalities will be fully functional. With respect to Zapier and Zoho Flow, we support all relevant triggers and actions for all courses and live workshops hosted in the product.

6. What are the features I will be getting post migration? To which subscription will I be mapped to?
Our support executives will share the plan details to which you will be migrated to based on your current ShowTime subscription. You will retain all of ShowTime's current features in your account and also have additional course creation tools enabled post migration.

7. Will there be any changes to my subscription payment?
There will be no payment changes to your subscription and the amount you've been paying for your ShowTime subscription will be the same that will be billed post migration.

8. Will my configured payment gateway and ticket settings in ShowTime also be automatically migrated to my TrainerCentral portal?
All the created sessions, their configured ticketing modes will be migrated without any changes to your TriainerCentral. You can even edit these ticket settings for these created ShowTime sessions post migration too.

Since TrainerCentral supports many new payment platforms and different kinds of ticketing modes (like one-time payment, subscription, installment mode etc) - you would be required to configure your payment gateway afresh in your TrainerCentral account.

Kindly refer to this help link to know the list of payment gateways supported by TrainerCentral -

After migration, we request you to configure your payment gateway (like Forte, Razerpay, Paytm etc as shared above) once in your TrainerCentral account before your create sessions in the newly migrated portal.
9. As a Zoho One user, can I also migrate my ShowTime account?
TrainerCentral is currently not a part of the Zoho One suite of products. If you've been a part of Zoho One before September 1st 2021 and a ShowTime user, you can migrate your ShowTime account (training organisation portal) to TrainerCentral using the migration feasibility offered in ShowTime.
If you've been part of Zoho One before September 1st 2021 but not a ShowTime user, you can add TrainerCentral from your Zoho One Admin Console to use the product.
10. How to migrate your ShowTime data to TrainerCentral?
You can migrate your Zoho ShowTime data to TrainerCentral directly through the in-app migration button, within your ShowTime portal.

Note: Only the Super-Admin of a ShowTime portal, can migrate their portal's data to TrainerCentral through the in-app migration button.

To start with the migration process, the Super-Admin of your portal can click on the Migrate button (which will be invisible to other users) in the left panel above the Manage subscription option, and follow the instructions that appear.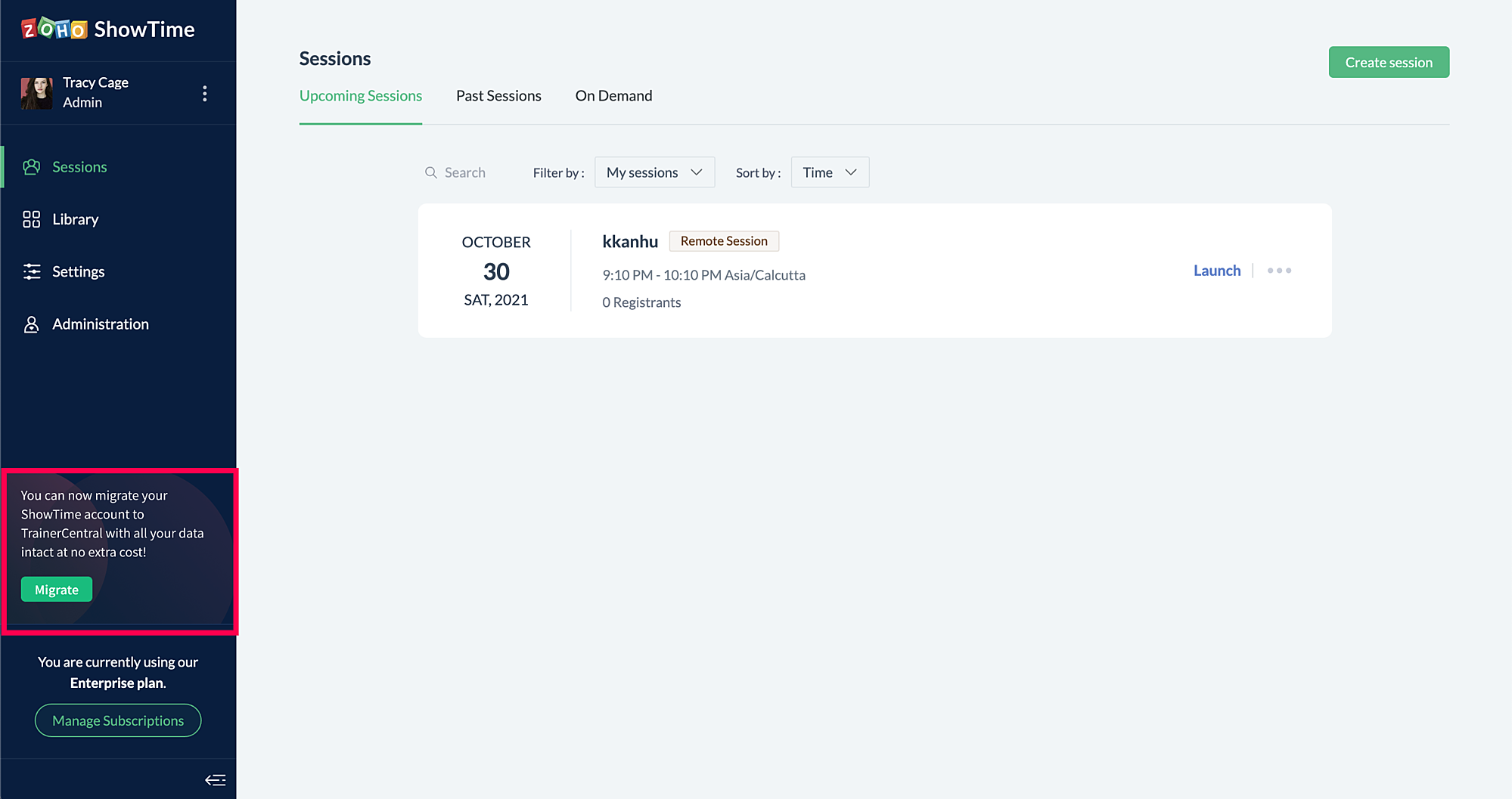 Once the migration is completed successfully, you'll receive an in-screen notification, from which you can access your TrainerCentral Academy.
11. Where can I find my past sessions and library content from ShowTime in TrainerCentral after migration?
You can find the remote sessions that you've previously created/conducted under the Past sessions tab under Live workshop in TrainerCentral.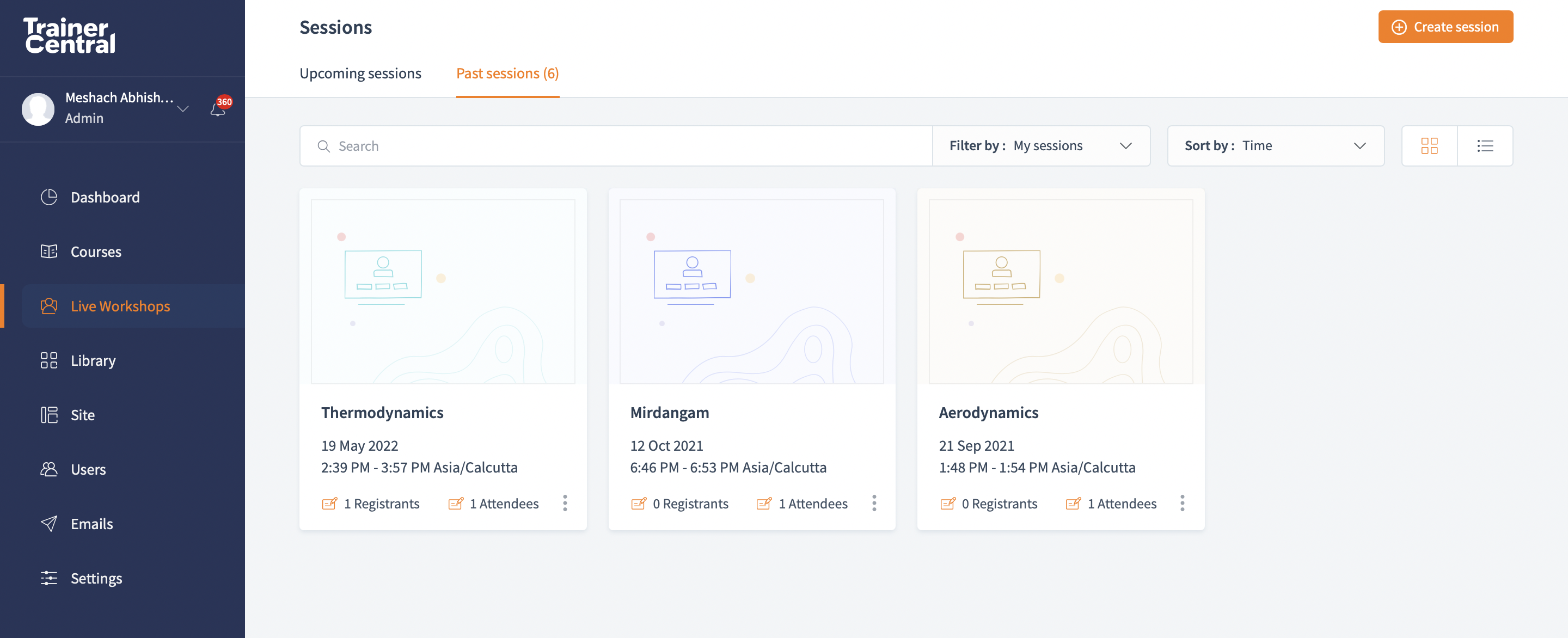 You can also find the On-demand session previously created in ShowTime under the On-demand session tab available under the Live workshop menu in TrainerCentral.
All materials that were hosted in your ShowTime library will also be moved to the Library tab in TrainerCentral.